OSIsoft – Analyzing PI System Data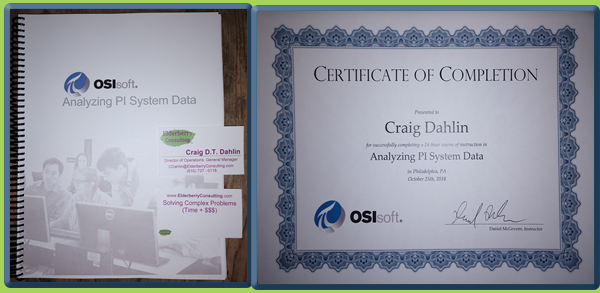 Thanks to our friends at Rajant Corporation I attended OSIsoft's Analyzing PI System Data class this week. What I enjoyed most about the class was learning new business intelligence techniques that Elderberry Consulting can use to evaluate and audit industrial IOT data utilizing OSIsoft tools.
I'll also point out that Rajant, and OSIsoft recently announced a partnership to bring enhanced industrial IOT offering to mining, transportation, energy, and oil & gas sectors.
Think of Elderberry Consulting for better reporting and analysis of your industrial IOT data. (See Example of PowerBi Reporting of the OSIsoft Data)
Together let's prevent deviations,
Craig D.T. Dahlin
Director of Operations, General Manager
Elderberry Consulting, LLC
Email:CDahlin@ElderberryConsulting.com
http://www.ElderberryConsulting.com